"Westworld"Management Simulation: Guides, Tips and Tricks
Emily Siegel

2018-06-19 09:10
The television show Westworld is all about how an amusement park with futuristic attractions turned into a chaotic slaughterhouse of sorts. The mobile game Westworld is really quite different. For starters, the game puts you in the manager's seat which challenges you to ensure all your guests are kept happy and your hosts safe. If you are a fan of the show, there are a number of tiny details, as well as, larger than life facts that connect you with the TV version of this game. That connection does make it all the more interesting to play, but it will take you time to actually start seeing references to the TV show - so just keep pushing on.
One of the first references takes the shape of Theresa Cullen. Although she is alive and well in the game, she appears only briefly to assist you through a quick and basic tutorial. While there is a lot to learn along the way, we thought it would be a little more interesting if we gave you a little sneak peek into what to expect and how to manage your resources correctly. Hopefully, you will find this guide a lot more detailed than Theresa's and it should help you get through Westworld easier and in one piece.
What Exactly Are You Supposed To Do In Westworld?
Essentially, Westworld is no more than a simulator for time management. Your objective, as the park's manager, is to ensure that all your guests are happy. Every guest has his/her craving which can go from finding romance to committing devious crimes. These wants must be met by you and your trusty staff of hosts. By understanding what your guests want, you must match them with the correct host that specializes in that field of entertainment. Match a guest and a host perfectly, and your guest will be happy which will later give you and your host, currency, XP, and more.
To help match your guest and host correctly, you must check for a specific role the guest is looking for. This will be indicated above their heads as an icon with a colored border and a symbol within it. A Gambler role will be indicated with a couple of playing cards while a Con Artist will display an eye mask. You can either choose to match your Con Artist guest with a host that has the same role, or you can choose someone with the same colored border. Matching the Con Artist with a Gambler host will also work, but it will leave the guest less satisfied. There is a value attached to each guest and your host must be of the same, or higher, value to keep the guest happy. If the host fails to keep the guest happy, the guest will shoot the host. In order to get the maximum reward, you can also match your host with the color of hat that each guest wears - white, black, and neutral.
Once you've got the perfect match, you can go about your work, find a new guest to please, or spend a few Gems to complete the ongoing interaction instantly. The longer the interaction between said host and guest, the higher your chances of leveling up and earning massive rewards. The bottom line is that you need to correctly match your host and your guest and repeat the process until you've got a smoothly functioning amusement park - if you can call it that.
Rare Hosts And How To Get Them
The hosts in Westworld vary according to their rarities that go from 1 to 5 stars. Even after reaching the maximum level of stars, a host can become better by sacrificing equivalent hosts in the Rebuilds lab. The process works like this - you can sacrifice one 1-star host to take another 1-star host to 2-stars or you can sacrifice two 2-star hosts to take one 2-star host to 3-stars, and so on. Since the game is based on the TV show, you can get access to some of the prominent cast as your hosts such as Teddy, Dolores, Maeve, and Bernard. Sadly apart from Teddy, who is a 3-star host, the remaining hosts are all 4 and 5-star hosts, which means you need to collect a lot of rewards to unlock them.
What are the best ways to get a rare host, you ask? There are just two ways to do it. The first is to spend your precious Gems (250 of them to be precise) on a Premium Host Code that gives you approximately 0.6 percent chance of getting a 5-star host, 9.3 percent chance of getting a 4-star host, and 90.1 percent chance of getting a 3-star host. The other way is to collect code fragments of a particular host by taking part in the events. Collect as many as you can and build your way up to a 4 or 5-star host.
What About Free Gems and Coins?
The games two currencies - coins and gems - are quite difficult to come by, but if you really work at it, you will see them rolling in steadily. Or, you can do exactly what the developers want you to do which is spend cold hard cash to make some in-app purchases and get ahead in the game. Coins are used for practically everything in Westworld. From building new structures to building new hosts, coins are used everywhere, which makes it a little easier to find. To get free coins, you will need to boost interactions between guests and hosts and fire up new ones when the ongoing ones are completed. Coins are also available by completing objectives and daily goals which are located in a checklist on the right. You can also spend cash for in-app purchases, but you really shouldn't if you want to experience the thrill of the game.
Getting Gems is a little harder though as they are considered the premium currency in the game. While it's best to save them for Premium Host Codes and other pop-up offers found in the store from time to time, they can speed up a timer in the game for quicker results as well. Gems can also increase slot numbers in some facilities which let you have more than one host working at a time. You can earn Gems by simply finishing objectives or by leveling up. It is more efficient to level up in order to earn Gems as completing objectives does not always promise Gems as a reward.
Glitching Hosts and Bringing Them Back From The Dead
Similar to the TV show, the Westworld game also brings the very real possibility of the hosts glitching. This happens when you use a host excessively. The Glitch Riskgives you an accurate reading on what the chances are of your host glitching during his or her next interaction. You can find this reading by tapping on the host's profile. Once a host begins to glitch, the only way to treat it is to spend some time in the Diagnostics lab. In order to speed up the process, you need to spend Gems - which as you know, is quite difficult to come by. Therefore, it is a wiser option to place your hosts in the Diagnostics lab way before glitching. Even though there is a wait time for this process too, it is significantly shorter than the wait time when a host is broken.
Another way to avoid glitching is to set up a few more Diagnostics labs by spending some Gems. This ensures that your hosts can be sent there for routine preventive check-ups. Yes, only one host is worked on at a time, but you can line them up and they will automatically get checked - even if you log out of the game. You can also view your roster and see which hosts need attention by checking out the triangle icons above each host. If a triangle is blinking, it means that it's probably time to get that host to the Diagnostics lab. Better safe than sorry, right?
Now we get to the real fun part - where the guests get mad and shoot the hosts dead. It is bound to happen at some point and you need to be prepared. Not all hope is lost though, as you can bring them back from the dead quite easily. To repair a dead host, you need something called Synth-Blood. It takes five units of Synth-Blood to bring back a 1-star host and a lot more for hosts with higher rarity. To collect Synth-Blood, all you need to do is spend coins and time in the Biomaterials lab.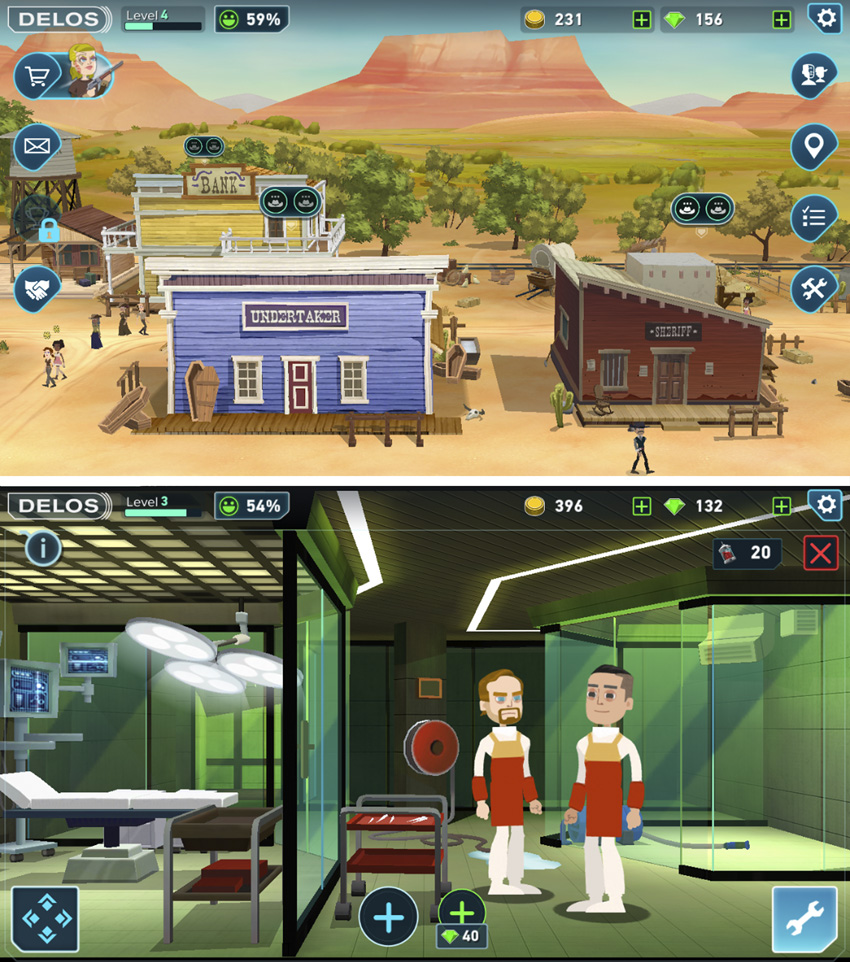 After collecting the required Synth-Blood, you can head over to the Body Shop for a routine patch up. Sylvester and Felix, two of the TV shows characters, will be waiting there to help you bring your host back to life. All you have to do then is a tap on a slot at the bottom, select your dead host, and wait for the timer to expire. If you have all the correct resources, your host should be up and running in no time and you can get back to running the mess you call an amusement park.
So, there you have it. A few tips and tricks to master the art of amusement park management - and bringing people back to life with magical blood. Westworld is a game that might seem dull and repetitive at first (and it surely is), but once you really get into the flow of things, it is quite addictive. With the in-game objectives and daily goals that get a lot more challenging as you progress, the game pushes you to put your management skill to the test.
Whether you have your hosts dealing with guests or you're stuck in the Diagnostics lab trying to figure out which host to check-up first, this game is definitely going to keep you on your toes - or at least your fingers. And the icing on the cake is the fact that you actually get to bring in and interact with the cast from the TV show albeit in their animated forms. Get a taste of Westworld Management Simulation today and you won't be disappointed.
Was this page helpful?
Thank you for your feedback!
0
% of people found this helpful